Plantation shutters, both interior and exterior window furnishing which regulate temperature and light through slats that can be opened and closed, are a hugely popular choice from America to Australia. Dating back hundreds of years, their growing popularity for both aesthetics and function means there are many options out there for materials and styles. Here we will look at what they are made of, and help you decide which is the best choice of material for your home.
What are plantation shutters made out of?
There are several materials that are commonly used to make plantation shutters. Wood is more traditional, and can create beautiful shutters that keep your home cool and looking good, too. There are, however, a number of more modern options as well including faux wood or composite options and vinyl shutters. Each has its different benefits and downsides. So, we will go through each and give you the information so you can see which might best suit your circumstances.
What are the pros and cons of each material?
As mentioned above there are three main types of material that are used for plantation shutters, and each has both pros and cons. The best choice can vary depending on your own criteria. Do you prefer classic and traditional fixtures? Or the most cost-efficient? Which are the best for keeping your home cool? When you are looking to buy your own shutters from the many available at quality websites it is important to consider the differences between them and take the positives and negatives into account before making your choice.
1. Wood
Most commonly, to be more specific, is Basswood, which boasts the best strength-to-weight ratio. Wooden shutters come both as natural wood and painted, and can come in a variety of colour shades and styles. One real benefit of wood is that it can be more easily shaped into arches and circles for even more decorative plantation shutters.
Another is the natural wood grain which can create truly gorgeous window fixtures. You can get clear and semi-transparent treatments to preserve the wood while still allowing the organic appearance to shine through. 
They are durable and hold up well over time, able to manage the weight better than shutters made from other materials. They also are the most traditional which can be appealing to yourself and any future prospective buyers. 
There are also cons to using wood, primarily that it is the most expensive. While plantation shutters can be a great investment and add value to your home overall. If wood feels like too great an expense check out some of the other materials available.
2. Composite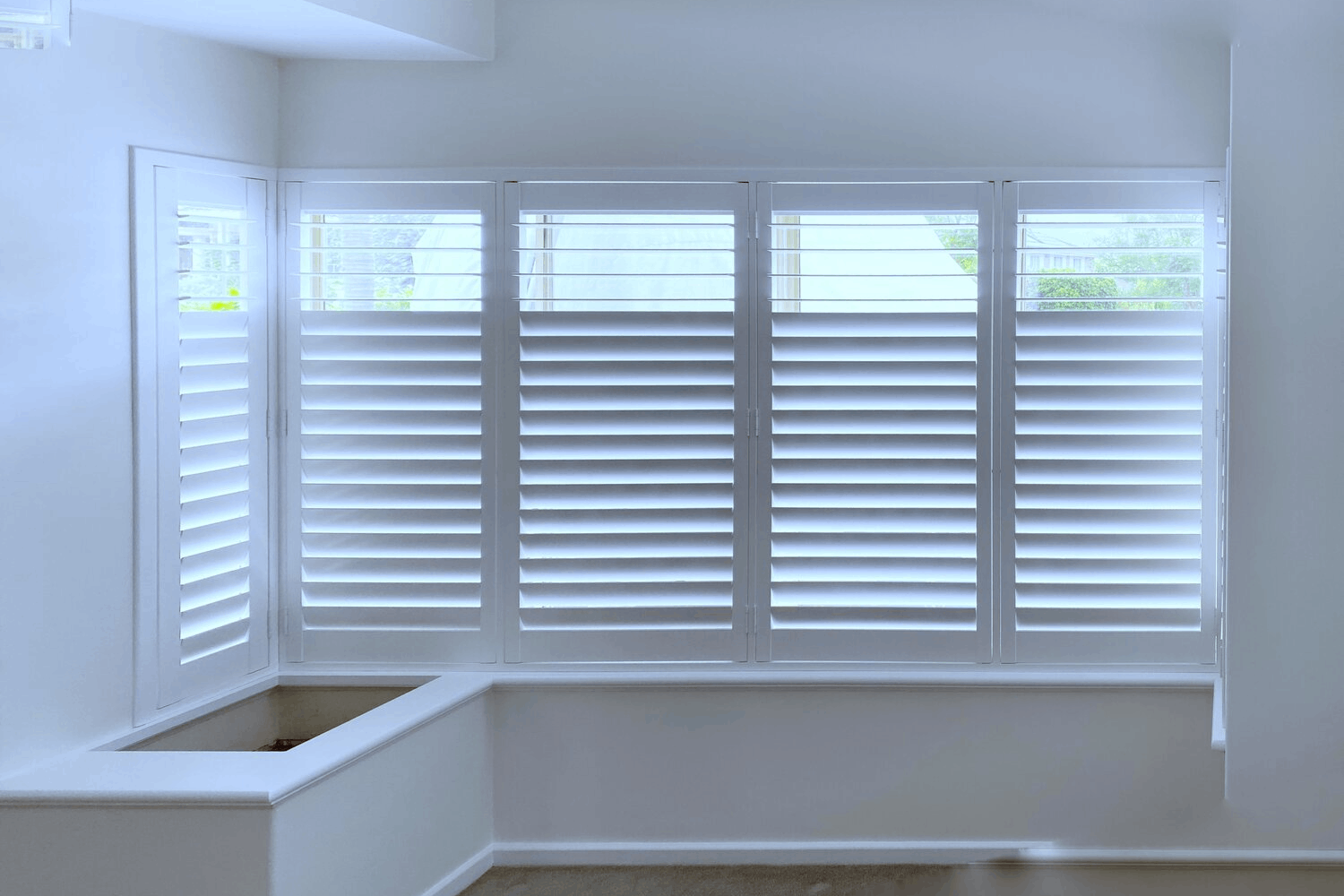 Offering an alternative to wood that is cheaper but still offers a similar aesthetic. Composite plantation shutters are manufactured from recycled wood products or faux wood with a vinyl coating. Lighter than wooden shutters, but with a feel and texture that is nearly the same. Composite shutters are a great compromise for those who want the luxury of wood without the price tag.
Composite shutters are also fantastic for being resistant to heat. Installing these plantation shutters can not only save you money on initial costs but also on electricity by keeping your house cool in the heat. 
However, both wooden and faux wood shutters can get damages by excessive dampness and moisture. For places like your bathroom, they are not always the right choice to make and can get warped and misshapen in the wet.
3. Vinyl
Vinyl plantation shutters are, straightforward, made of vinyl. There are a variety of options within this category though, ranging from hollow vinyl to solid vinyl and vinyl with an aluminium, insert for added support. The type you need would depend on the weight, which is one of the key cons of this material – it does not have the strength of wood and can bow under the pressure. 
Another con with vinyl is that it cannot be shaped like wood can into arches or any style you would like, though it is available in a range of colours for you to choose from.
There are many advantages to this material, however, which make it a popular modern choice. Firstly, it is the cheapest of the options outlined here today. Secondly, it is moisture and humid-resistant, making it an excellent material to use in rooms like the bathroom and the kitchen for durability and ease of maintenance. 
These plantation shutters still look wonderful. With the right support, they can prevent any warping making vinyl a cost-effective and long-lasting choice for your home.
Which type of plantation shutter is best?
Now having looked at each material in turn, the best type of plantation shutter depends on your own requirements. If you are placing shutters in the bathroom windows, or if budgetary concerns are the most important to you, then vinyl is surely the best material. If you want the luxury and class of wood, as well as the strength of a material like basswood making sagging and warping unlikely, then wooden shutters are the way to go. They are also the best for shaping and styling as you wish. 
If you think you want some of the looks of wood, and the durability of vinyl or a protective layer, then composite shutters are the best choice for you. They offer a great middle-ground for both cost and resistance to heat without sacrificing the feel and look. 
Conclusion 
Plantation shutters are a popular choice that won't go out of style, adding value and class to your house while also saving money on electricity and climate control. Easy to clean and operate, and durable enough to last for years and years, whichever material you choose for your plantation shutters, you won't regret the decision to install them. 
Check out some of the options available today at https://www.perthsboutiqueplantationshutters.com.au/ and think about which of these great types of plantation shutters is the right choice for you.