When it comes to decorating your home one of the most impactful changes can be redoing the floors. There are several excellent choices available including laminate and hybrid flooring, but it can be tough to know the difference between the two—and which the best option for your home and circumstances—is. Here we will look at some of the pros and cons of each to help you decide and get you on the way to your dream floor today.
Is laminate or hybrid flooring better?
There are many benefits and some downsides to both laminate and hybrid floors, so when deciding which is best the first thing to do is know the difference between them. Laminate consists of a top wear layer that is resistant to most day-to-day scratches and scuffs. The next layer is decorative giving the image of the wood or design you want, followed by a thick inner core made of wood, with backing and underlayment which can come separately or built-in.
Hybrid flooring is similar in that it is also layered, with a top layer, design, and thicker core. This core, however, is usually made of a plastic composite making these floors 100% waterproof. If you are looking for a simple answer to which is better, laminate is often only water resistant making hybrid the better choice. 
There are, on the other hand, many criteria for what might make you pick one type of flooring over another, and find the right kind to suit your house and lifestyle. Now we will go through some of the pros and cons of each to help you make up your own mind between laminate and hybrid flooring.
What are the pros of laminate flooring?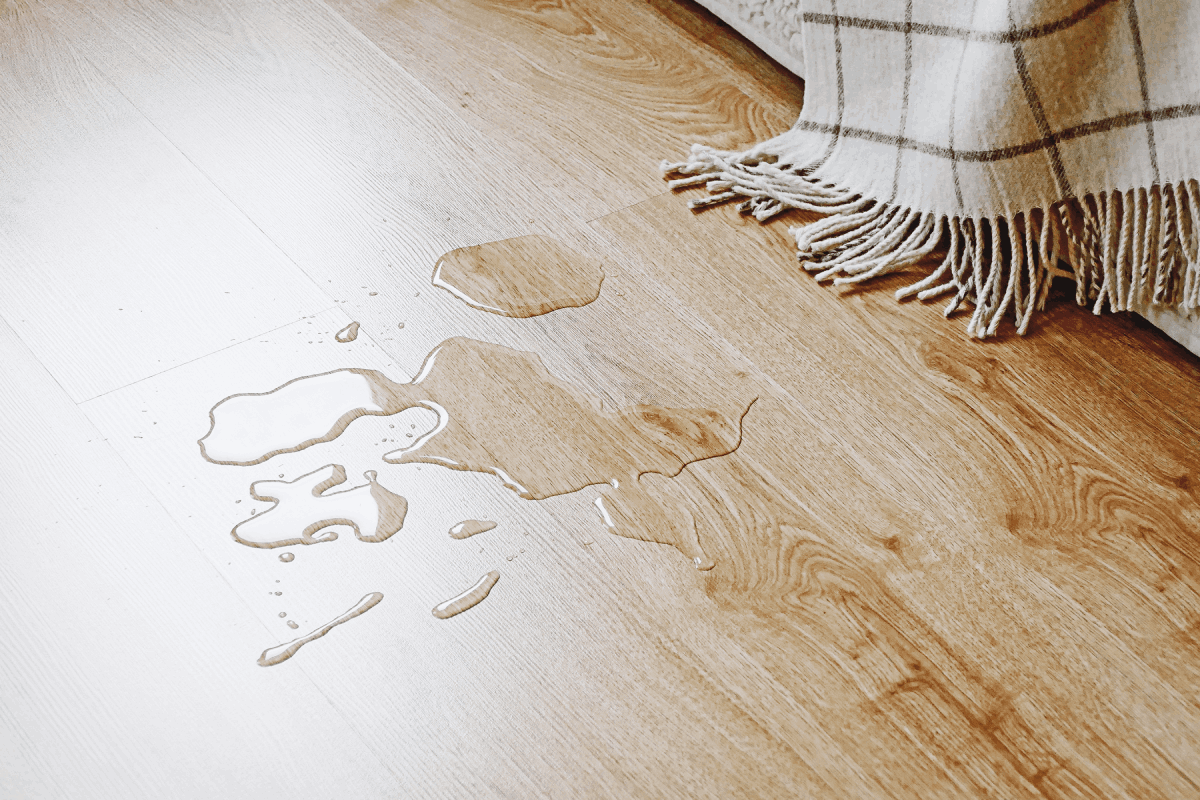 There are several positives to laminate flooring, and while some of these are the same as for hybrid floors, there are a few things that laminate does better:
Durability – the wear layer on these boards tends to be more scratch resistant even than their hybrid counterparts, letting them look good longer. 
Ease of installation – this is another key benefit, allowing for savings on hiring a professional by doing it yourself. 
Design and quality – laminate flooring has been around for longer and has a huge range of styles and woods that it attempts to imitate. Some of the higher quality brands are nearly indistinguishable from hardwood floors, so you can find the type of wood and style you like that looks realistic without spending too much.
Affordability – one of the key benefits of laminate flooring is the price. While there is a range of costs depending on the quality, laminate can be one of the most affordable types of flooring that are still durable and look great.
There are many more pros to laminate floorboards including ease of cleaning, and maintenance, and it is relatively simple to replace a damaged board with click and lock technology if you need. They are also a more environmentally friendly choice with many made from recycled wood. If you want an affordable floor that will look great and last a long time, have a look at the beautiful laminate options available.
What are the pros of hybrid flooring?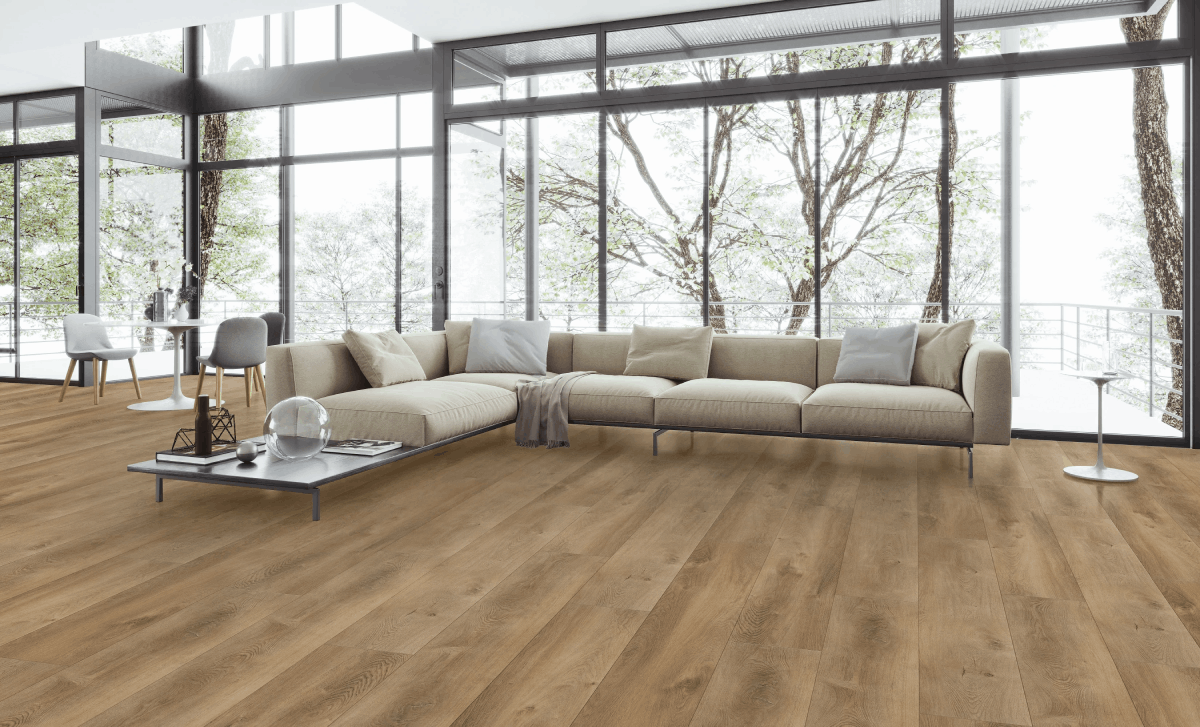 When it comes to hybrid flooring the goal was to merge the very best qualities of both laminate and vinyl flooring, so there are many pros that reflect that:
100% waterproof – as mentioned above, by utilising plastic composite like PVC hybrid flooring goes further than standard laminate and promises to be completely waterproof. This makes it ideal for anyone with kids or pets, as well as those who live a more active lifestyle and like easy cleaning.
Durability – hybrid flooring has a top layer that is resistant to UV, scratches, and dents, and again allows for easy cleaning. It is a long-lasting flooring that will stand up to heavy foot traffic and most any other wear from daily life. 
Easy to install – hybrid also uses the click and lock method, so you can quickly and easily lay your new floor without the need for expert installation – unless that's what you prefer! 
Sound and feel – hybrid flooring has a rigid core making it feel solid and comfortable underfoot. It also muffles and reduces the sounds of people walking, and the underlay further softens any loud sounds, making it a great choice for a noisier household.
There are so many more benefits including the beautiful look and styles available in hybrid floors and how it is easy to clean and replace. With hybrid flooring, you won't have to worry about warping or water damage, and will have a gorgeous floor that will last and last.
What are the cons of laminate flooring? 
While there are many benefits to laminate flooring there are a few negatives and areas in which other flooring scores higher. Some laminate floors can be damaged by exposure to the sun, with UV rays causing fading over time. 
Likewise, while laminate is water resistant most of the time, you can have problems with swelling and distorting from water if your floor gets wet. This can quickly spoil the look of your floor, but remember you can easily replace the offending boards if this does occur, and there are waterproof options available if you wish.
What are the cons of hybrid flooring?
Hybrid flooring is often more expensive than laminate, which can feel like an unnecessary expense at the time. However, the waterproof and long-lasting benefits of hybrid flooring can mean you will save money, in the long run, balancing out the initial cost.
Hybrid can also feel less real than other types of flooring out there. Due to its mix of materials including plastic, you cannot treat it like real wood and sand it down, nor does it feel quite the same. If you are looking for real hardwood floors, though, you will have to be prepared for the associated expense.
Conclusion 
Both hybrid and laminate flooring have a variety of positives, many of which they share. They are both easy to install and maintain, and both have a variety of styles and designs to suit any home. The biggest difference is often in how waterproof you need your floor to be, so if you are in danger of damp or need flooring for your bathroom, hybrid is the way to go. Check out the options available, and find the right floor for you, today.